If you asked someone, "when should I go to Panama?" a perfectly acceptable answer would be "anytime". The sun always shines, the palms always sway, and there is always beautiful music escaping out of some corner.
2020 has been a bit different and like most countries, Panama closed its borders and all international commercial flights were suspended on March 22 to curtail the spread of COVID 19.
Paradise is now back on the cards as Panama reopened its borders on 12 October 2020. Here's everything you need to know about visiting Panama.
Travel information
Tocumen International airport (PTY) is once again open to international travelers. Before the pandemic, Tocumen was the busiest airport in Central America and a hub for wonderful journeys throughout the Americas. During the lockdown, only humanitarian flights were operated.
Commercial flights to Panama from the US are now available with COPA Airlines, United Airlines and Spirit. From Europe, you can get to Panama with KLM, Air France and Iberia.
To enter Panama, all passengers need to have a negative COVID 19 Polymerase Chain Reaction (PCR) test taken no more than 48 hours before you travel. The airlines will require proof of your test results before you board. This also includes transit flights.
If your test results are older than this, you will need to take one at the airport at a cost of 50 USD. If this test result is positive, you will be required to quarantine in a hotel paid for by the Panamanian government for seven days.
Before checking in, passengers will have to fill in an electronic affidavit agreeing to comply with the ministry of health's safety measures in Panama.
There are no entry restrictions based on country, travelers are welcome back to Panama from everywhere in the world.
Open for business
Many businesses in Panama are now permitted to resume operations including cinemas, museums, restaurants and hotels. There are trails galore for breathtaking hikes, natural wonders, and tropical wildlife waiting to be admired.
Facemasks are required in all public spaces and businesses may operate at 50% capacity.
Come to our secluded Caribbean island resort
At Azul Paradise, we are fortunate to be situated on a private postcard-worthy beach far from the noise and restlessness of the world.
Bocas del Toro is a stunning archipelago on Panama's Caribbean coast. Grab a sun hat and come here to slow down and unwind in one of Central America's best-kept secrets, far off the beaten path.
Azul Paradise resort is on a private stretch of Bastimentos, Bocas del Toro's largest island. Peace and seclusion will be all yours here. There are decks stretched out onto the water for night stargazing and over-the-water bungalows with glass floors for coral reef viewing. If you'd like to indulge in any day trips from here, our neighboring islands are the Zapatilla Cays, which are undeniably Bocas' best beach for remoteness – they're completely uninhabited and pristine.
To get to Azul's properties in Bocas del Toro, you will need to get a domestic flight from Panama City with Air Panama.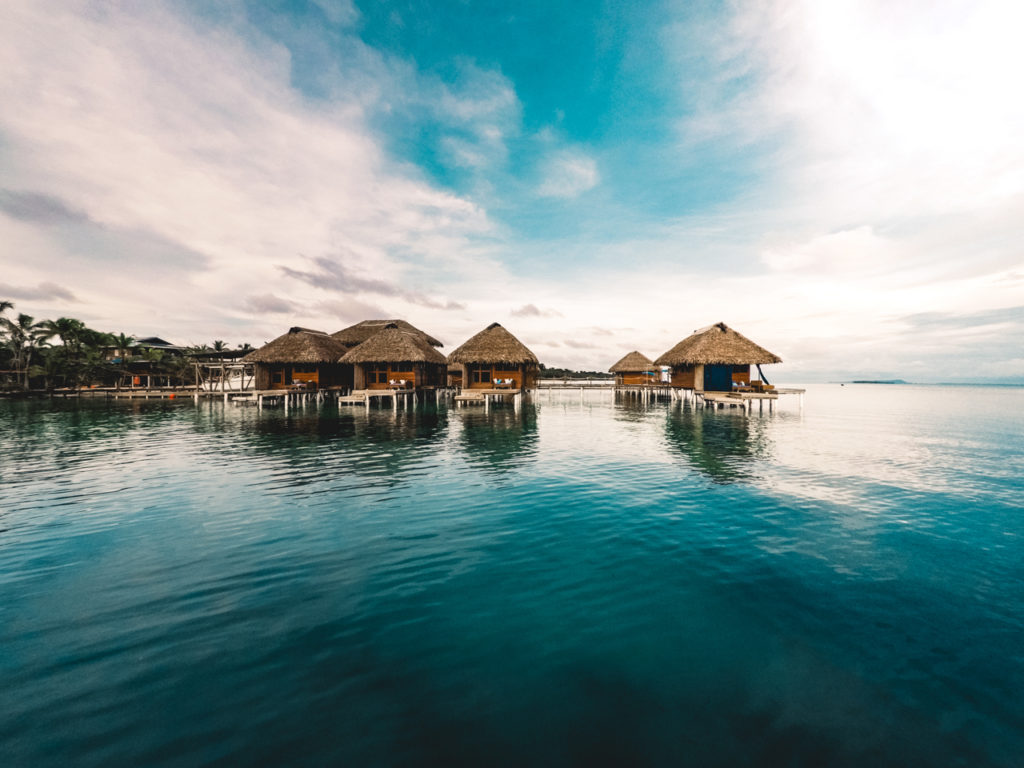 Keeping you safe
Things are a little different here at our resorts but our main priority will always be keeping you safe, secure and happy.
As part of our commitment to our guests, our team members will wear masks as well as numerous hand sanitizer stations. Guests can expect a temperature screening and distanced seating at our restaurants.
Space for romance
Honeymooners and water lovers love this piece of paradise where you can enjoy your special person on the silky sand and nourish yourselves with tropical fruits and sustainable, locally grown cuisine.
Our island offers the drama of the jungle and the serenity of the beach, and our sunsets here are riots of red, pink and gold.
Bocas is essentially Eden.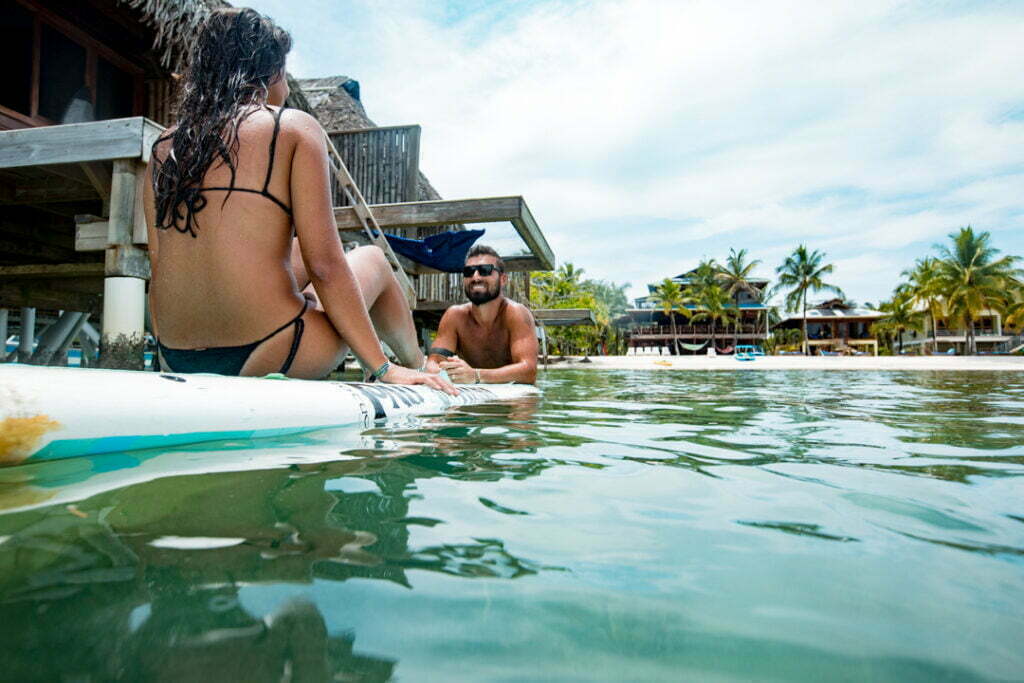 The best time to visit Panama
There is always something worth seeing, doing or tasting in Panama all year round. Though it's always warm, Panama has two seasons and the Caribbean side in Bocas del Toro has different weather from the Pacific side of Panama.
The Green Season (which is also known as our surf season) is broken up a bit. December through January is when you see all the professional surfers catching the first flight to Bocas to surf our world-class waves. February still has a bit of a swell but through the month, it turns into the season of flat seas.
By the time March hits we are usually flat as a lake and back to sunshine all day. ☀️ Each year varies with no guarantee, but we usually plan for March through the end of June to be filled with sunshine and light rains. Once July and August arrive, we prepare for surf season again and find ourselves outside learning to ride the waves.
September and October until mid-November (we wait for this season all year long) has such Instagram-worthy weather. The marine life is out, baby dolphins are being born, baby turtles are hatching and you can see whale sharks.
In our opinion, it's always a good time to come to Panama.
Welcome back to paradise.