Welcome to Azul Paradise Resorts, two breathtaking hotels stretched across two islands in Bocas del Toro, Panama. Paradise is our middle name.
The Archipelago of Bocas del Toro sits in the west of Panama, a country that the 2017 Gallup Emotions Report placed as the 3rd happiest in the world. A day in the life here includes content guests strolling barefoot while breathing in sea salt-tinged air and feasting on all the fruits of the sea; kayaking, pedalos, paddle boarding and fresh seafood.
Azul Paradise Bocas Town
Bocas Town is colorful and 100% Caribbean. Not more than 15 years ago this town of clapboard houses on Main Street was just a single dirt road and was the best-kept secret in the Caribbean. Today, Bocas Town is the beating heart of the region on Bocas' main island, Isla Colon, and it's known to hypnotize people into cancelling all future plans. Azul Paradise Bocas Town is the most luxurious of all the properties on the strip and it's the perfect gateway to adventures on Starfish Beach, ATV trails, legendary nightlife and countless stores and restaurants built on stilts over the water.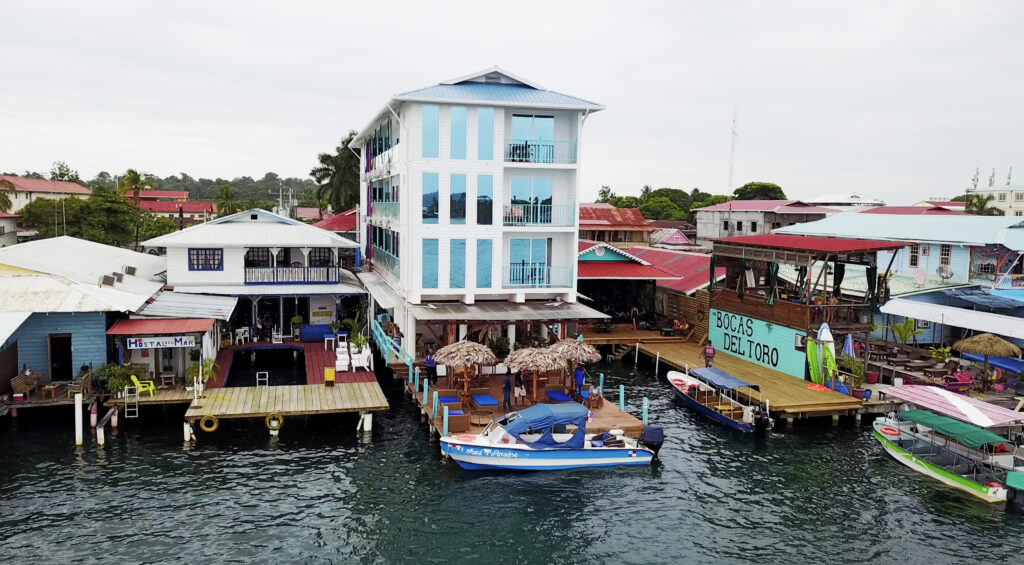 Azul Paradise Resort
Tucked a 30-minute boat ride away from Bocas Town is where you'll find Azul Paradise. This off-the-grid resort has 10 over-the-water bungalows on a private white sand beach on Isla Bastimentos. Every bungalow has a glass floor for coral reef viewing and king-size beds to recuperate after a hard day's laze. There are also ladders leading from the sundeck straight into the Caribbean waters so you can easily step into the warm water and witness the electric-colored world beneath the water's surface. At our secluded over-the-water-bungalow resort, the ocean is at your fingertips in every sense of the word. The resort features an authentic Panamanian tiki bar with beachfront grill, large Club House with lounge area and eco-friendly water and electrical sources.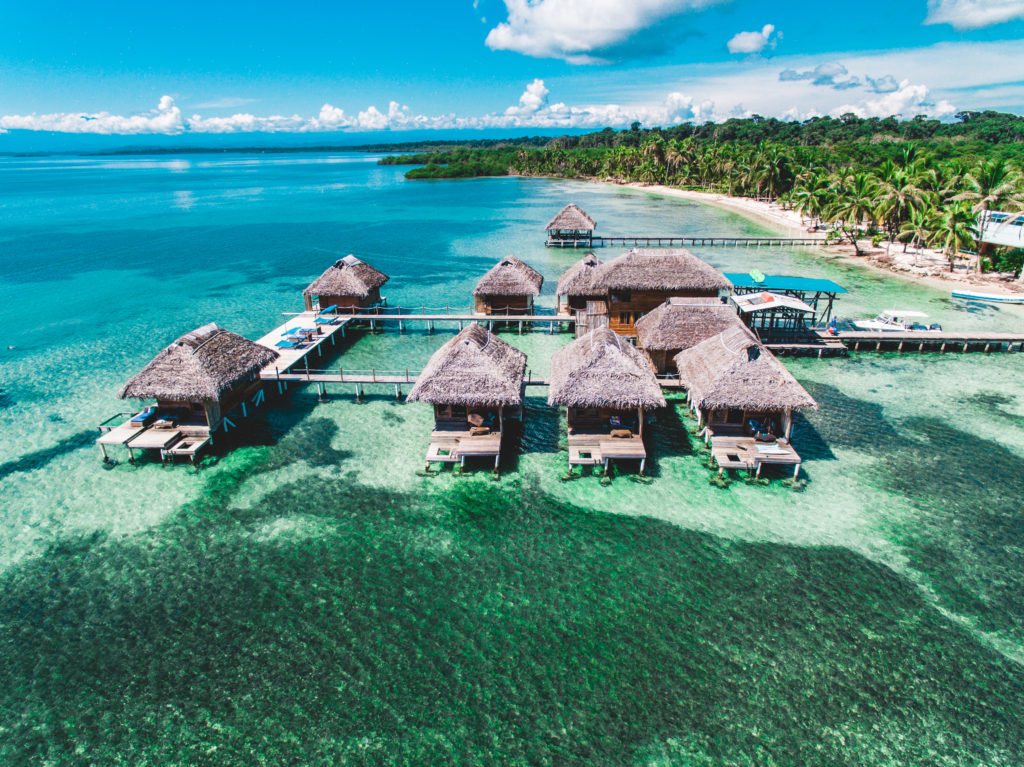 Who We Are
Hi, we are Erin and Marty. Together with our children, we arrived in Panama over six years ago on vacation and fell in love with this amazing island full of happy people and unimaginable beauty. Months turned into years and these islands became home.
Prior to our arrival, there was limited development and very few work opportunities for the residents of nearby Salt Creek. Our mantra has always been to stand as an economic resource for the people in our surrounding area. Our very first employee was a local fisherman who joined us as a boat captain and he still works with us till today. As we grow, so too does the prosperity of Bastimentos' residents with more jobs available to them.
Community & Philanthropy
Anyone can build a wooden structure and call it a business, but what we have built in Bocas is much more special than that. What makes our business is the people; a team that we love enough to call family.
When COVID-19 reached Panama in early 2020, we came up with a plan to invest in the community that we love and cherish. The beaches of Azul Paradise on Isla Bastimentos are lined with countless lush palm trees. Within the rainforest behind those beaches lives the most amazing community of Ngäbe-Buglé Indians who have the means to make the purest organic coconut oil on earth. So, we started buying as much coconut oil as we possibly could from the community with the purpose of turning it into natural soap. The result is Salt Creek Soaps, a project close to our hearts. With this socially responsible business, we are striving to combat the virus and empower the communities to make use of the handicraft skills they already possess.
Come visit us at Azul and make all your paradise dreams come true, experience a warm community, partake in its sustained development and taste the Caribbean.
Stop dreaming and start packing!