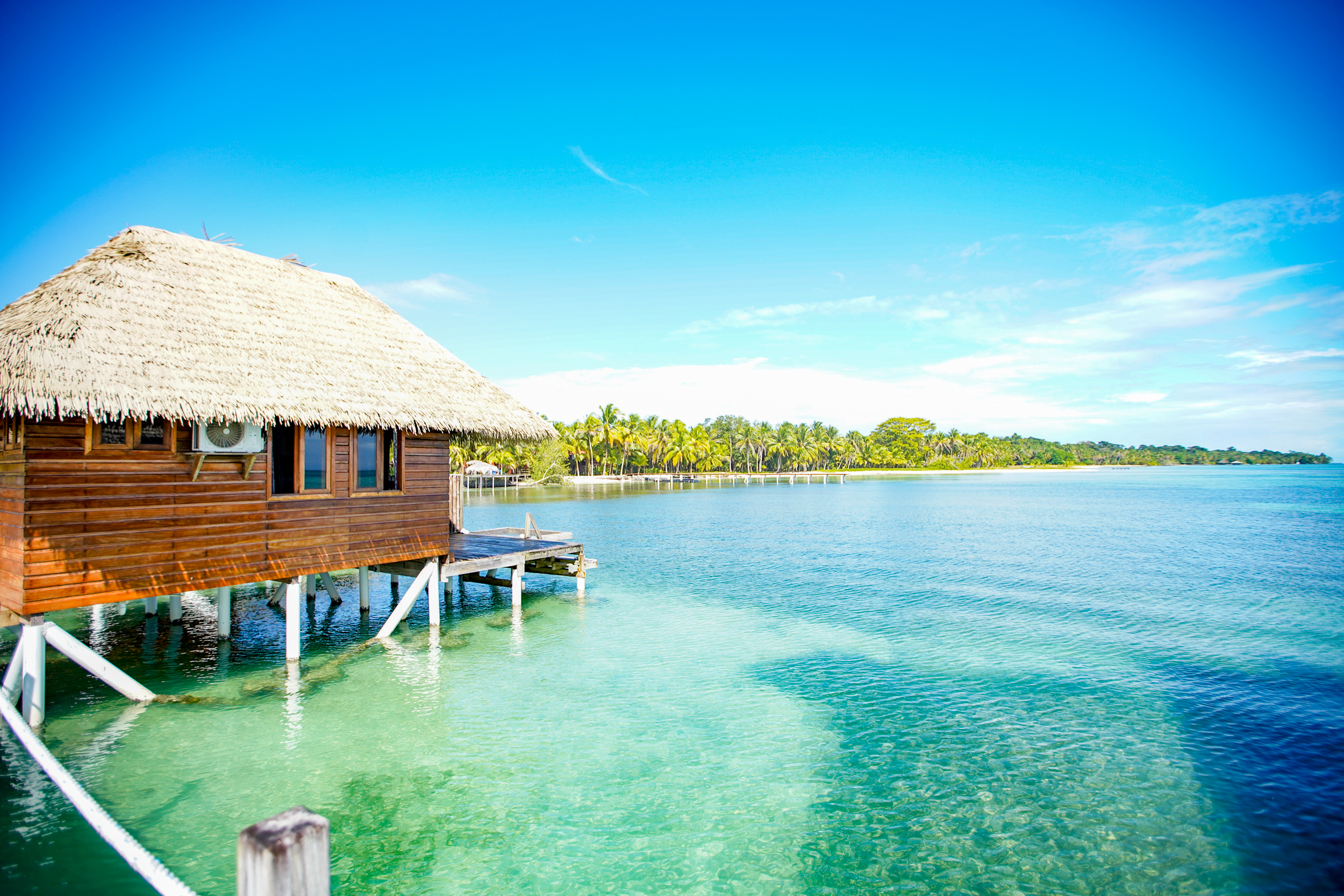 AZUL PARADISE: YOUR HAPPY PLACE
The first thing that comes to mind when the word "paradise" is uttered? Whispers of powdery white sand, decadently soft to the touch, endless blue bliss and warm winds spring to the fore. Well, prepare to be blown away right here. Paradise is found in Bocas del Toro, the archipelago you are yet to fall in love with, in the country you know too little about.
Azul Paradise is "that" over-the-water bungalow resort in Bocas del Toro (affectionately shortened to 'Bocas' by adoring locals). The archipelago sits in the west of Panama, a country that the 2017 Gallup Emotions Report places as the 3rd happiest in the world. This means that Panama struts ahead of 139 nations when ranked based on five elements: purpose, finance, community, social and physical health.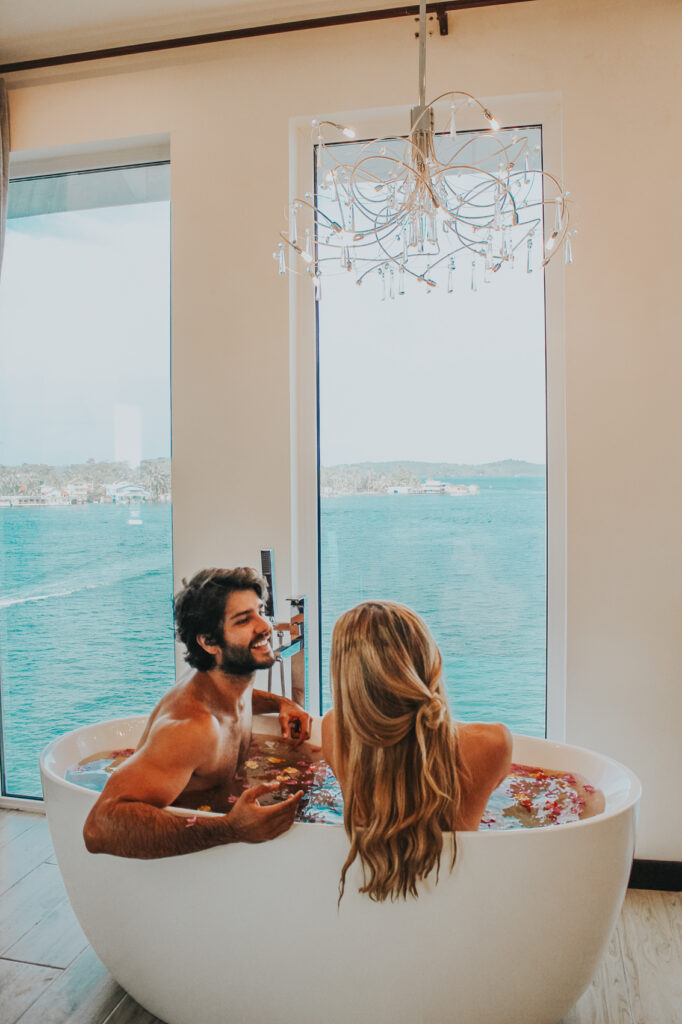 Escape & Unplug
Azul Paradise is THE leading hotel in the region and is perfect for those seeking the modest charm of beach life with stunning vistas straight out of Castaway. Get lost in a new reality far from civilization and the crowds that pour themselves out to devour Isla Colon's nightlife. The entire world is a lifetime away and all that exists here is bliss. A stint here can be life-changing and rejuvenating. Even a short stay guarantees resplendent replenishment. You can really relax and find your happy place off the grid and off the beaten path. It's a boutique paradise.
Amenities
Speaking of balance, one of the amenities at our Eco-resort is a yoga terrace directly overlooking the Caribbean Sea. Let the palm tree shadows caress your face as you lie in a hammock: book, fan or cocktail in hand. There are tours and activities you may book directly with us, if you are capable of peeling yourself away from said hammock, that is. Take surf lessons, rent a boat for the day or consider a day trip to Sloth Island or Dolphin Bay- the names have quite a ring to them, don't they?
Some places are so indisputably incredible, so devastatingly dazzling that phenomenal effort would be required NOT to be enchanted by them. Azul is one such spot. It is impossible to resist Azul Paradise's charm, luring you in with promises of alfresco lunches in our Tiki Bar, ample white seashells dotted along with every look and corner, feasting on all the fruits of the sea; kayaking, pedalos, paddle boarding, AND fresh seafood. Every bungalow has a glass floor for coral reef viewing (just like you dreamed about) and king size beds to recuperate after a hard day's laze. At our luxury over-the-water-bungalow resort, the ocean is at your fingertips in every sense of the word.
While it's true that one person's idyllic holiday differs immensely from the next person's, there are some generally accepted notions of what makes a satisfactory tropical resort: recreational activities, plenty of sunbeds, scenic living quarters and staff that actively partake in helping you create memorable experiences. Azul Paradise has all the bells and whistles you will be accustomed to if you have laid your head at any of the world's fine resorts. Azul Paradise however, will leave a particularly sweet taste in your mouth, and we're not just talking about the bar delights you WILL want to sample here. After all, everything tastes better in a private beach bungalow over the water.
Why Us?
Let us ask you this: is there ever a time when you don't need paradise? Who could resist waking up wondering whether you're a prop in a living dream as you take the stage at our Picasso masterpiece, praying the happy fantasy never ends. You are cordially invited to come to the happiest place, in one of the happiest places in the world.
The resort speaks for itself and on occasion, our happy customers will speak for us. "I thought all of Bocas del Toro looked like this when I was looking up information on Panama. I thought the whole archipelago was made up of over-the-water cabanas like these but it's the only place, so I'm really glad I got to stay here", cooed one guest. Azul Paradise is the crown jewel of Bocas del Toro, adorning every aerial video and "come hither to Panama" guide. Guests come from far and wide to partake in our version of bliss. It also goes without saying that Azul is the perfect setting for romance to flourish. We have been known to throw a decadent wedding soiree or two, and honeymooners flock here in their droves. With a year-round warm climate, Panama is fit to help you celebrate your love and your life whenever you please.
You will fall deeply and lustfully in love with Azul Paradise and Bocas del Toro. If you are yet to be swayed, then let the swaying palms convince you. Do you dream of coconut-strewn beaches? Come and see them for yourself. SO, why should you choose Panama? Because it is one of earth's forgotten Edenic paradises. Why should you choose Azul Resort? Because Paradise is our middle name.