TAG YOUR TRAVEL BUDDY
Win a 4 night 5 day trip of a lifetime to one of the hidden gems of the world. We want you to be our guest so the trip also includes us as your private tour guides. Let us treat you like family.
Unfolding in the majestic waters of the Caribbean, this majestic off-the-grid resort highlighting 10 over-the-water bungalows is located on white-sand beaches in the province of Bocas del Toro.
Tucked away on a secluded part of the island is an experience you will never forget. This 5 – day trip to Bocas del Toro, Panama will take your breath away. This experience is sure to feed your adventure craving travel desires.
Each of the bungalows features a private outdoor shower, an outdoor living area lounge, and a ladder leading from the sundeck straight into the waters of the Caribbean. The cool and comfortable interiors boast a king-sized bed, with a private bathroom and a walk-in shower. You can fully encompass the suite's 'over-the-water' setting with glass floors that allows you to view the marine life below.
The secluded part of the island, the setting for this stunning resort, is located 30 minutes on a breathtaking boat ride from the busy Caribbean crowd of Bocas Town. The resort features an authentic Panamanian tiki bar with a beachfront grill, a large Club House with a lounge area, a private bar, and a restaurant.
Here is what you will win
Day 1: Airport Pick-Up we will see you as soon as you land to the island. We will be waiting to welcome you to the island.
Itinerary: Day 1 – Over the Water Bungalow
Day 1: Arrival, Upon your arrival our captain will be waiting for you with a boat to our resort. Set your bags in your overwater bungalow, throw on your swimsuit, and jump right off your dock into the beautiful turquoise waters of the Caribbean. Swim on up to the beach and grab a drink or a bite to eat at our tiki bar. Explore the beaches, relax, or go for afloat on the water if you desire. Then catch a beautiful Caribbean sunset from the beach or bungalow and head to our clubhouse for a Caribbean dinner of a lifetime!
Day 1 Features: a Trip to Sloth Creek where we'll load us the boat with your favorite drinks and take you down mangrove tunnels to spot sleepy sloths hanging above.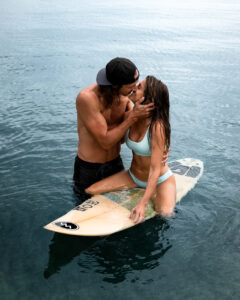 Day 2: If you're an early riser, the sunrises from the bungalow are dreamy. Walk down the dock to our club, enjoy some Panamanian coffee, fresh fruit, and order one of our tasty breakfast items! If your swimsuit isn't on yet, throw it on, grab your camera, and some sunscreen, relax and enjoy a day of tranquility where the white sand stretches for as far as one can see.
Day 2 Features: A snorkel trip to some of the most amazing underwater destinations in the world.
Day 3: Today's you day to chose your adventure, relax on the beach, go for a snorkel, kayak, paddle board, paddle boat, beach walk, explore the salt creek village, or whatever adventure you desire!
Day 4: Today's you will travel to the main island of Isla Colon and we'll treat you to the Ocean View penthouse suite as your last adventure, relax in the soaking tub, go for a bike ride down the Beach bluff, end the night soaking in the nightlife of the main island, or whatever adventure you desire!
Day 5: Departure day!  4 nights not enough? Add more days onto your trip!!***
Included in this give away:
3 nights in a private over-the-water Caribbean View bungalow with ocean views and a glass floor for coral reef viewing, private bathroom, luxury king-size beds, free wi-fi, and eco-friendly electrical and water sources for you and the one you choose.
1 Night in Our Ocean View Luxury Suite
Transportation to Azul Paradise beaches on scheduled boat transport from our dock in Bocas Town only.
Meals at the Beach Resort Included
Kayaks, stand-up paddleboards, clubhouse access, and tiki bar/restaurant amenities.
Not Included:
All flights to Bocas del Toro, Panama.
Additional nights beyond the 4 giveaway nights (upgrades are available)
Alcohol (can purchase separately)
1 Tour/Adventures at the Beach Resort per day is included as listed above. Bocas Island of Isla Colon Tours can purchase separately.
Guidelines >
A Salt Creek Soap Island Box must be purchased to be entered into the game.
Multiple Entries are welcome.
ONLY 2800 boxes will be sold. That is good news for you. The number for the drawing is limited to only those that purchased. If you purchased more than one box the number of boxes you purchased will be the number of times you are entered in.
Details will be posted here as they unfold.
Drawing will be held on January 15th 2021. THE name of the winner will be posted on this page on January 15th. The winner will have 24 hours to claim their winnings before we draw a new name.