The first thing you'll notice upon arrival at our resort on Bastimentos Island, is how ethereally stunning our location is, obviously. The second thing that will be immediately apparent is that our workforce is predominantly made up of locals from the nearby village of Salt Creek.
The impact Azul has on the island is a thoroughly positive one. Our philosophy dictates that there must be up to 26 resort jobs for the Ngobe people of Panama and more for private contractors. Our planned expansion to the island of Colon in 2018 will also add a further 20 jobs. We want the islands to remain as pristine as they were when we initially stepped foot here. Our practices are transparent and kind to the community as well as the environment- we are after all an Eco-resort.
The beauty and growth potential of Panama and the Bocas del Toro region is what urged us to invest in this ambitious project three years ago. Successful completion would have been near impossible without local residents lending their knowledge and assistance. Our very first employee was a local fisherman who joined us as a boat captain- he still works with us till today. Our gorgeous over-the-water bungalows were built by local craftsmen and 90% of our staff come from the 600-strong Salt Creek Indian village.
Normally during vacations abroad you're lucky to interact with (or even clap eyes on) local people, particularly at resorts. At Azul, the local people ARE the resort. They work with us, for us, and live right around the corner. Ours is not a case of a foreign brand sweeping in and overtaking a given region, Azul IS Bastimentos. The community IS Azul. We work together and are united in our celebration of Bastimentos, Bocas del Toro and Panama.
A visit to Azul Paradise is all it takes to understand Panama's warmth; not solely where climate is concerned, but also it's people. Our staff make you feel at home in their home. You know that you are only an ask away from your heart's desire. They demonstrate an utterly willing attitude to commemorate whatever brought you to us: your honeymoon, wedding or sorely needed relaxation and requiescence. Our local staff are eager to introduce others to their little slice of paradise, their customs and their culture and hanker to know the ins and outs of yours.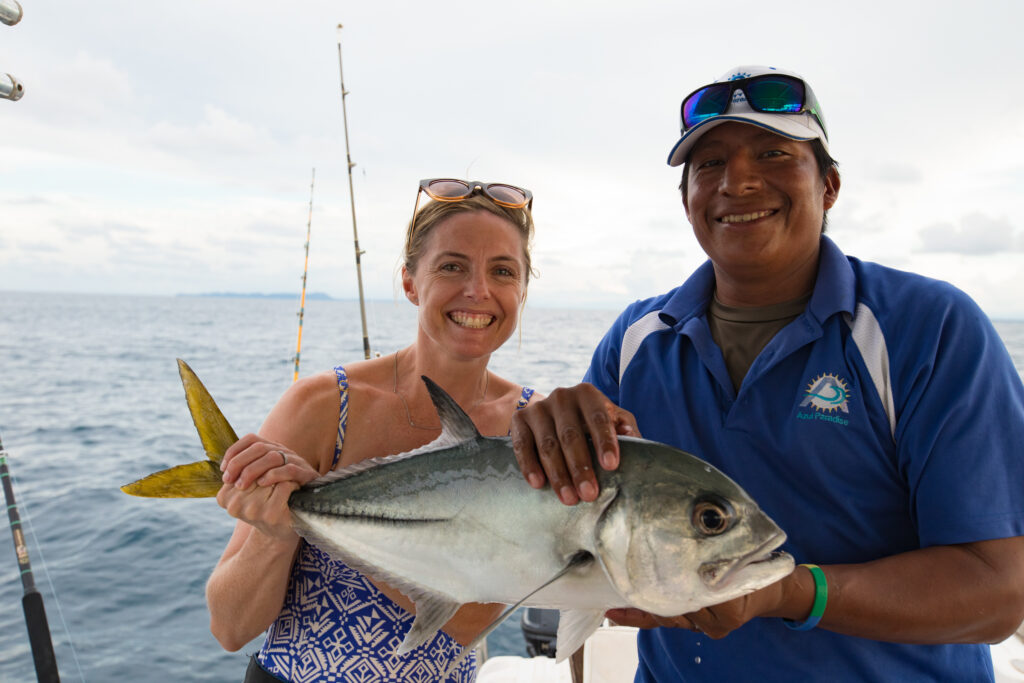 The menu at Azul includes tours to enjoy the lush local area; fishing trips, secluded beaching on the Zapatilla islands, snorkelling at Coray Cay and Bottlenose Dolphin watching at the appropriately named Dolphin Bay. These tours are organised by local staff. We also organise day trips to Salt Creek and Kusapín villages for you to be able to acquaint yourself with monkeys and sloths in the trees, and the residents' warm smiles on dry land.
At Azul Paradise, time has seemingly stopped still. Here, you may catch a glimpse of a local fisherman feeding the remnants of his daily haul to the nurse sharks in our front yard: the sea. It is a blessing to be able to call this paradise home. Azul Resort is a breath-taking site that is exceptionally kind to the eyes and ears; existence is covered in the music of the waves and sunsets are golden.
Azul meets the gold standard on how to empower a local community. Our Azul mission can be viewed as a humanitarian one. We seek not to pillage the land, but to utilise its fertility to re-invest in its beauty and prolonged existence. We wish for the local communities to grow and flourish with and through us. Your decadent island escape is directly supporting a community and ensuring the future of its children. The much- needed stimulation to the local economy encourages the self-sufficiency of its inhabitants. Your next holiday may have a bigger impact than you know.
Our mantra has always been to stand as an economic resource for the people in our surrounding area. Prior to our arrival, there was limited development and very few work opportunities for the residents of Salt Creek. We are happy to say that our resort has helped to breathe life into this side of Bastimentos and continues to do so till today. As we grow, so too does the prosperity of Bastimentos' residents with more jobs available to them. We are committed to training people in the local community to be able to take on a wider range of jobs and careers beyond our company.
Your once in a lifetime trip to Azul Resort may be extravagant, but you can leave with your conscious as clear as our stunning blue waters.