Azul Paradise Hotel is an  Over-the-water Paradise. Your Paradise.
It's a honeymooner's life at the luxurious Azul Paradise a tranquil escape in the archipelago of Bocas del Toro known for its crystal clear waters, seafood restaurants, and setting along miles of white sand beaches.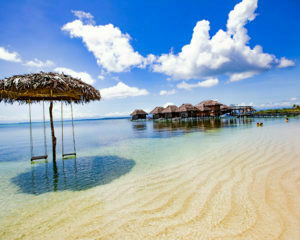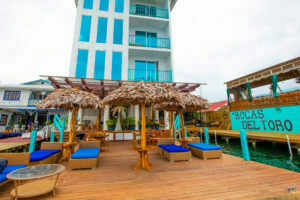 You'll explore two major islands in Bocas del Toro: the main island includes the nightlife, the restaurants, bike trails, ATVs, and jungle treks. The second island is the most of the natural location set into the rainforest, and the beautiful white-sand beaches. Ocean shore, and our own "Secret Island" secluded beach, which you can bough as an additional offer!
Bocas del Toro the perfect mix for adventure and culture.
The first thing that comes to mind when the word "paradise" is uttered? Whispers of powdery white sand, decadently soft to the touch, endless blue bliss, and warm winds spring to the fore. Well, prepare to be blown away right here. Paradise is found in Bocas del Toro, the archipelago you are yet to fall in love with, in the country you know too little about.
Azul Paradise is "that" over-the-water bungalow resort in Bocas del Toro (affectionately shortened to 'Bocas' by adoring locals). The archipelago sits in the west of Panama, a country that the 2017 Gallup Emotions Report places as the 3rd happiest in the world. This means that Panama struts ahead of 139 nations when ranked based on five elements: purpose, finance, community, social and physical health.
"The only things you should buy are your memories"

Hanna Tayson

To know it is to love it, but Panama is yet to show up on the radar of overwhelmingly stunning Caribbean destinations. Many are unaware that Panama is even in the Caribbean at all. The splendors of Panama are still largely under-investigated due to some widely held wild misconceptions: you aren't going to get kidnapped by pirates, people don't all live in mud huts and yes, there is electricity.
If Panama sits at the top of the leader board for happy nations, visiting Bocas del Toro is self-explanatory, as the country's most popular beach destination. The Bocas lifestyle invites travelers and captivates their hearts en masse. The beauty that lives here is humbling and astounding. What's not to love about traveling by water from a paradise beach to yet another paradise beach? We could speak radiantly about the brilliance of Bocas for hours on end. The collection of islands has Bocas Town on Isla Colon as its epicenter of activity: bars, restaurants, surf and diving schools, and yet more bars on Main Street. Bocas however, is more than just the main road; there are hidden gems everywhere, the glitteriest being our resort.
For Booking & Information:
Reservations WhatsApp: +507 6949 3848
Hotel Desk: +507 760 9760